Kitchen Design and Installation in Staines Kingston and Middlesex
Contact Oakley Home Improvements for friendly and trustworthy advice – to get your project started call us on 01784 244637 or send a message via the Home Improvement Contact Form.
Ruminating over a rustic farmhouse kitchen? Contemplating a new, airy kitchen refit with tons of natural daylight? Bringing in the bold and bright with bursts of colours? We have seen it all – and are very happy to advise you in every stage of your design planning and preparation from lighting and flooring options to modern gadgets and space saving solutions.
Free Kitchen Design Services and Itemised Costings
We arrange a home visit at your convenience to carry out accurate measurements to issue you FREE floor plans with 3D imaging. Once you can visualise your dream kitchen you may actually realise you can cut some of the cost by carrying out some work yourselves – we encourage this!
Are you a dab hand with a paint brush and want to paint your walls and celing? Great, take off that portion of the cost. Good with gloss and prefer to finish skirting boards at your own pace? Lovely, now deduct that cost from your kitchen quotation as well.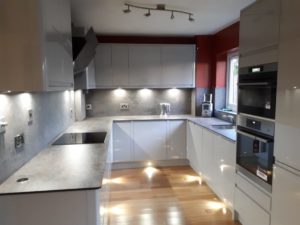 Transparant Pricing and Exceptional Customer Care Experience
Being in the construction industry for many years, we have noticed that one thing customers really want from their kitchen and bathroom installer is transparency and trust.
It's common practice for tradesmen to give customers a "total price" when they quote for home improvements or kitchen and bathroom design, installations and fitting.  What the customer may not actuall know is exactly what the breakdown is for everything thing involved which can be very frustrating.
We believe providing customers complete clarity and itemised pricing is the key for customers to have control over their project.
Kitchen Design Pricing Structure – Tailored To Your Budget
Plastering, tiling and flooring are all quoted per square metre and the meterage is confirmed
All electric and plumbing work is itemised and quoted individually
All other items are quoted per item, this way a customer know exactly how much they are being charged and what for.
As a family-ran company established back in 1999 whether you need a small job completed at home or have plans for an ambitious renovation, we are here to help with over 2 decades' experience to provide trust and confidence at the highest level.
Kitchen  Tiles or Luxury Vinyl (LVT) Flooring?
There are so many options when designing a kitchen or bathroom, it's easy to see why customers spend some time debating which option to go for.  For instance I find that one of the biggest decisions customer face is deciding whether to have tiling or LVT flooring. Other than personal choice, a major factor is often pricing, weighing up the combined cost of the material and also the installation charge.  By giving the customer a detailed itemised flexible breakdown in their quotation they have the opportunity to play around with their quote in their own time and work out exactly what any alternative options would cost them.
No Hidden Charges – Kitchen Cost Clear Pricing
I also ensure that there are no hidden charges.  Should any changes to the quotation be required during the installation, say for example we've quoted for plastering but in fact when we removed the walls tile the walls were in fairly good condition and just need making good.  We'd both sign to agree the changes on an amendment from to track all changes. Again giving the customer transparency throughout the entire process.
I've found by being open and clear with our pricing from the outset and throughout the installations, lays a great foundation of trust with customers.  Which in turn has lead to may customers asking us to come back to carry out more work in their homes and has lead to us being highly recommended to friends and family.  This has been the basis of how we get our work for many year and I am proud of the outstanding reputation we have gained.
We are committed to providing the absolute best customer service and are always available to offer reliable and professional advice. For all jobs, we offer a free home survey and a quotation with no obligation. We work hard to provide a smooth and streamlined service from concept to completion and work closely with individual customers to make sure we fully meet their requirements. Visit our Kitchen Installation Gallery page for more inspiration.
Kitchen Designs and Installations throughout Middlesex and Surrey